News
King's Cross Voices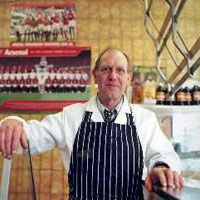 Peter Gardner, Gardner and Finch butcher's shop, Caledonian Road, one of the interviewees photographed by volunteer portrait photographer, Sarah Weal. Her portraits accompany the oral history extracts in the exhibition, together with a number of the interviewees' personal photographs, and some from other collections.
An exhibition using extracts from oral history recordings and photographs, collected as part of the King's Cross Voices project to tell the stories of those who have lived and worked in King's Cross, both past and present, can be seen at Camden Local Studies and Archives Centre from 15 June until 26 September 2009.
King's Cross is world famous for its railway and architectural heritage, but until now very little has been written about its people ― those who have both lived and worked in the locality, unnoticed by commuters and other travellers who pass through the station. King's Cross is presently in the throes of a massive redevelopment, so to have the chance to see and hear the reminiscences of railway workers, students, shopkeepers, market traders, artists, campaigners, politicians, former sex trade workers, factory workers, housewives, publicans, and many others who inhabit this wonderful part of London, makes this an exhibition not to be missed if you are near or in Holborn during the next few months.
King's Cross Voices was funded by the Heritage Lottery Fund, the London Boroughs of Camden and Islington and received support from a number of other bodies. Between 2004 and 2008 the project recorded and transcribed interviews with over 300 King's Cross people. The exhibition also includes a listening area so visitors will be able to hear audio extracts of the King's Cross Voices interviews, as well as a display of rarely seen artefacts relating to the King's Cross area.
King's Cross Voices exhibition, 15 June–26 September 2009, Camden Local Studies and Archives Centre, Holborn Library, 32–38 Theobalds Road, London WC1X 8PA, tel: 020 7974 6342, email: localstudies@camden.gov.uk, open: Mon–Tue, Thu–Fri 10am–7pm, Sat 10am–5pm.
10 June 2009