News
News in brief
Look out for a new seven part TV series called Saving Britain's Past which explores changing attitudes towards our heritage over the course of the twentieth century, focusing on key 'moments' that precipitated change and debate. The subjects of the seven programmes are a starting point for exploring some of the key questions and debates surrounding Britain's heritage which arose during the second half of the twentieth century. The programmes form part of the course materials for the new Open University course Understanding global heritage (AD281). Due to be broadcast in late-August 2009, the series is linked to an inter-active website at www.open2.net/savingbritainspast/index.html.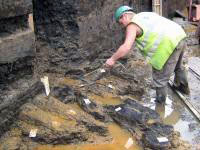 Archaeologist cleaning part of the timber trackway found at Belmarsh. Photo courtesy University College, London.
London's oldest timber structure, a trackway, has been unearthed by archaeologists from Archaeology South-East (www.archaeologyse.co.uk). It was found during the excavation of a prehistoric peat bog adjacent to Belmarsh Prison in Plumstead, Greenwich, in advance of the construction of a new prison building. Radiocarbon dating has shown the structure to be nearly 6,000 years old and it predates Stonehenge by more than 500 years. Previously, the oldest timber structure in Greater London was the timber trackway in Silvertown, which has been dated to 3340–2910 BC, c.700 years younger. Wetlands adjacent to rivers such as the Thames were an important source of food for prehistoric people, and timber trackways and platforms made it easier to cross the boggy terrain. The structure discovered at Plumstead is an early example of people adapting the natural landscape to meet human needs. The peat bogs which developed at Plumstead provided ideal conditions to preserve organic materials, which in other environments would have rotted away. The peat not only preserved wood, but also other plant matter ― down to microscopic pollen grains ― which can inform us about the contemporary landscape.
The public can now add information and images to an online database about Scotland's built heritage. The Royal Commission on the Ancient & Historical Monuments of Scotland's (RCAHMS) main web-based archive, Canmore (http://canmore.rcahms.gov.uk), is now interactive, which means members of the public can add details to any of Canmore's 280,000 places of interest and upload copies of their own photos to share with other users. RCAHMS project manager, Siobhan McConnachie says 'We know from the work that we do and the people we meet while doing it, that many people have a wealth of information they would like to share with us that will add to our knowledge of a building's past or images that will help tell a story (and) since we had already developed a responsive digital web archive, it seemed a logical and exciting step to open it up to the public in this way'.
Bristol from the air appeal. David Goddard has been commissioned by Breedon Books to produce Bristol from the air and is seeking recommendations for sites which might be included. He has already photographed the main tourist sites around the city and surrounding area, but would like to include other sites, especially those with archaeological or historical connections which are visible from the sky. If you have any suggestions about possible sites, please contact David Goddard, British Geographical, 61 The Avenue, Camberley, Surrey GU15 3NF, email: david.g@britishgeographical.com, www.britishgeographical.com/Home.html.
'Memory of the World' status has been given to the four surviving copies of the 1215 Magna Carta by the United Nations Educational, Scientific and Cultural Organisation (UNESCO) in recognition of their outstanding universal value. The copies in question are held by the British Library, Salisbury Cathedral and Lincoln Cathedral and now have a ranking akin to a World Heritage Site. UNESCO's International Memory of the World Register promotes access to the world's archive holdings and library collections, as well as their preservation. The easiest way to find more information online is to type 'unesco memory of the world' into a search engine.
A new journal called The Historic Environment is seeking contributions for its first issue which will be published in 2010. It is intended as 'a journal for all those that investigate, conserve and manage the historic environment (and) essential reading for all archaeological practitioners, and those involved in building conservation ― contractors, consultants, curators, researchers, students and fieldworkers ― both professional and voluntary. The journal cuts across organisational divisions to identify themes which are of concern and interest to all practitioners.' For more information about subscription price and availability contact Customer Sales and Service Department, Maney Publishing, Suite 1C, Joseph's Well, Hanover Walk , Leeds LS3 1AB, tel: 0113 386 8168, www.maney.co.uk/index.php/journals/hen.
Groups and individuals in 30 Kent parishes are being invited to take part in 'Peopling Past Landscapes', a major research project to create an in-depth overview of the history of an area extending from the North Downs to the Weald of Kent. Organised by the Kent Archaeological Society (www.kentarchaeology.org.uk), the project will survey and record evidence found above and below ground, and in documents, of life in the parishes since prehistoric times. Local and family history enthusiasts and societies, schools, archaeologists, and members of WIs, parish councils and community and conservation groups, will be encouraged to work together under the guidance of a team of experts from KAS's specialist committees. Studying the ancient route ways that cross this landscape, and the influence that they have had on human settlement and the local economy, will be a key part of the project, but it is deliberately wide-ranging in scope in order to include all the different skills and interests within the KAS. There will be regular reports and news about the survey on the KAS website. The project will be launched at a public Study Day at Lenham Village Centre on Saturday, 3 October 2009 and will include forums where ideas for potential fieldwork and research can be discussed. Pre-booking is essential, cost £5 (plus £6 for a buffet lunch if required). Send sae and cheque to 'Kent Archaeological Society', c/o Lesley Feakes, 2 Old School Close, Lenham, Kent ME17 2HD, tel: 01622 850275, email: 606@feakes.com.
Talking to local people ― especially the older generation ― and collecting their memories as part of an oral history project, can be an excellent way both of engaging with local communities and the recorded material produced can have many uses, whether as the basis of a simple leaflet, an exhibition in its own right or even an 'intergenerational community play'. A two–day residential training course, 'Ask the fellows who cut the hay ― Undertaking oral history projects in the community', is being held at the UK's foremost environmental training centre set in the Peak District National Park 8–9 December 2009 in partnership with two accredited and experienced Oral History Society trainers, Rib Davis and Michelle Winslow, who will take participants through all the stages of such a project with the aim of giving them the confidence, skills and enthusiasm to try this approach for yourself. The course costs £360 reduced to £305 if you book before 8 October 2009. Dinner plus B&B is available for £55. For more information, or to book, contact Sue Field or Margot Seymour, Learning Team Administrators, Losehill Hall, Peak District National Park Authority, Castleton, Hope Valley, Derbys S33 8WB, 01433 622472, email: training.losehill@peakdistrict.gov.uk, www.peakdistrict.gov.uk/training.
The Streets of Bournemouth 'virtual museum' (www.bournemouth.ac.uk/streetsofbournemouth/) is being created with the help of a £440,000 grant from the Heritage Lottery Fund (HLF). Bournemouth University, which is leading the project, says 'the online museum will bring together the past and present through its community archive, where residents will be able to contribute their own photographs memories and stories'. It will also feature collections and expertise from Bournemouth Libraries and the Russell-Cotes Art Gallery & Museum, providing a mix of maps, photographs, paintings, drawings, objects, musical archives and information. The 'museum' goes live in 2010, visitors to the website will be able to see how their streets have changed over the last two hundred years by clicking through layers of historical maps. Some 850 glass negatives in the Day Collection at the Dorset Centre in Dorchester have been conserved and digitally scanned as part of the project. They will also be able to call up a timeline, showing associated images and select strands of information about Bournemouth's people and its buildings, its development as a health and seaside resort, and many other defining aspects of the town's story. There also be a series of 'Bournemouth Heritage' exhibitions and 'Bournemouth in a Box', for use in local primary schools. If you want to stay in touch with what is happening, or would like more information, then visit the website.
The Civil Defence Association describes itself as being 'For Yesterday, Today and Tomorrow'. It wants to ensure that past civil defence activities are remembered by this and future generations and it wants local communities to become involved when and where there is a need today. As well as wanting us to remember the 1.9million civilians who served as auxiliaries and volunteers during World War Two, it wants us to also remember the many thousands more who were always ready for action during the 'Cold War' which followed. Individual membership costs £8pa. For more in formation contact The Secretary, CDA, 24 Paxton Close, Matlock, Derbyshire DE14 3TD, www.civildefenceassociation.org.uk.
History in Bedfordshire 'urgently requires more articles'. They are looking for contributions of around 1,700 words (fewer if illustrations are included). Longer articles will be accepted if they can be divided into parts and published over consecutive issues. If you would like to contribute please contact the Editor of History in Bedfordshire, Brian D Lazelle, Springfield, 63 Ampthill Road, Maulden, Bedford MK45 2DH, tel: 01525 402264.
Specialist skills and training in the heritage sector are in line to receive an extra £7.3million from the Heritage Lottery Fund (HLF): £2.3million has been earmarked for an extension of their current Training Bursary Programme (www.hlf.org.uk/HLFBursaries/), enabling up to 150 additional 'on-the-job' accredited training places to be provided for 'skilled crafts and environmental specialists'. The remaining £5million will go to fund a new programme called 'Skills for the Future' (www.hlf.org.uk/English/MediaCentre/Archive/Funding+for+heritage+skills.htm) which will offer work based training in the skills needed to look after historic buildings, the landscape and museum collections. HLF say 'This could include training education and outreach officers, volunteer managers and people who need new technology skills to help the public learn about our heritage and play an active part in its future'. At present, the demand for HLF bursaries 'outstrips the opportunities available by as much as 60 to one'. The National Heritage Training Group (www.nhtg.org.uk/) estimate that over 10,000 additional skilled craftspeople are needed to meet current craft shortages in the built heritage sector across the United Kingdom.
19 August 2009