News
Interactive postcards are a new museum attraction
A historic view of Leiston Market Place in Suffolk. One of the postcards visitors will be able to see using a computer.
The Friends of the Long Shop Museum in Leiston, Suffolk, have been given a £4,500 grant from the Museums, Libraries and Archives Council's 'Informal Adult Learning Challenge Fund' to create a brand new touch screen exhibition that will bring Leiston's history to life. A collection of over 500 superb postcards of town and surrounding area, some with images dating back over one hundred years, will be used to chart the town's development at different times over the last century. This is thanks to the generosity of a local councillor, Frank Huxley, who has loaned his collection of local postcards to the Museum for the project.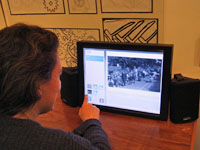 Longshop Museum's new interactive touch screen computer enables visitors to search an impressive collection of over 500 historic postcards of Leiston and surrounding area by simply touching icons on the computer screen.
Although the project is a small one, museum manager Stephen Mael believes that 'It is a very exciting opportunity for both for the Museum and the Friends. By working together, we can enable visitors to Longshop Museum to have a more enjoyable and rewarding experience when they visit the museum'. If you would like to learn more about the project, contact Long Shop Museum, Main Street, Leiston, Suffolk IP16 4ES, tel: 01728 832189,
www.longshopmuseum.co.uk. The museum opens 27 March–31 October 2010, Mon–Sat 10am–5pm, Sun 11am–5pm.
11 December 2009